WinFence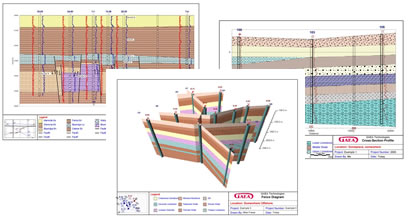 The WinFence cross-section extension module of GaeaSynergy can be used to quickly create detailed full color cross-sections. A wide variety of strata can be used to create cross-sections. Depending on the industry, types of strata that can be used include layers, faults, lenses, intrusions, and alteration zones (mineralization, contamination, hydrocarbons, shear strength). Very detailed and complicated stratigraphy can be represented and easily drawn. Each industry version of this module has been specifically designed with data types and strata tailored to that industry.
To display more information or purchase the software, select the industry version below.
Features
Below is a list of some of the features in WinFence:
EDMS sample and concentration data that is associated with a boring or well can be displayed on a cross-section at the location of the boring/well.
Strata in cross-sections can be automatically generated by the programs built-in intelligence.
Fence diagrams can be generated, displayed and printed in 3D.
Multiple water levels can be drawn on the cross-section. The water level can be drawn automatically using the water levels stored in WinLoG.
Grid nodes from contour maps are displayed on the cross-section and can be used to automatically adjust the strata boundaries.
Strata boundaries can be used to create contour maps in the extension contour module.
The automatic creation of cross-section strata has been improved with tighter links to the boring/well module.
Cross-sections can be included in page layouts for a project and shown either individually or as part of a montage.
Cross-section path line can be straight or bent.
Intersecting cross-sections can be displayed on a cross-section.
Intersecting cross-sections can be used when automatically generating a new cross-sections.
Cross-sections can use data entered in the boring/well extension module to show lithologies, graphs, geophysical logs, samples, and well details at borehole locations.
Strata from the boring/well extension module are automatically added to the cross-section.
Cross-sections can contain an unlimited number of layers, lenses, and intrusions.
Strata boundaries can be connected by straight lines or a curve can be fitted to the boundary.
Boundaries can be snapped to other layers or intrusions.
Points defining strata boundaries can be graphically edited and deleted.
Horizontal and vertical scales of the cross-section can be specified or automatically fitted by the program.
Data Types
The types of data that can be displayed and features depend on the industry version. To see a list of features and data types for each industry version click on the link below.
---
Share this page:
Our Products
Our services
Shopping cart
Account

Login Status
Not logged in
»
Login