GDMS: Geotechnical Data Management System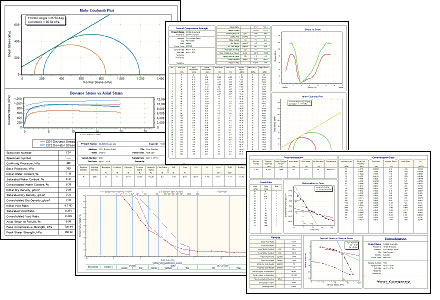 ---
The Geotechnical Data Management System (GDMS) integrates geotechnical testing and quality control with a laboratory information management system. GDMS is used to perform a wide variety of geotechnical tests and store the data and results in a managed database. It is a major upgrade to our popular WinSieve program and can easily import all of your WinSieve data and templates.
Benefits
Capture and store geotechnical data.
Conduct a variety of geotechnical tests and report the results.
Standardize the procedures for testing and reporting of geotechnical data within and across projects.
Provide a secure database system for the storage, retrieval, and backup of all project geotechnical data.
Fully integrated with other modules within GaeaSynergy for visualization of samples and test results.
Includes all of the licensing, security, and auditing features provided by GaeaSynergy.
Features
Below is a list of some of these new features in version 5:
Licenses can be perpetual or subscription based.
Subscriptions can be annual, monthly, or weekly.
Subscriptions can be manually or automatically renewed.
Licenses can be purchased in GaeaSynergy or the GaeaSynergy Network Monitor.
After purchase, licenses can be immediately added and used in GaeaSynergy.
Annual maintenance can be purchased and renewed as a subscription.
Projects can be archived and retrieved from archives. This allows for the easier selection of current projects.
Below are some other features:
Geotechnical test results can be summarized in graphs and tables that can be displayed in reports.
Reports can also include legends, title blocks, corporate logos, and other textural elements.
Photos of test specimens and testing equipment can be linked and shown on test reports.
Test personnel and verifiers are stored with test information and can be displayed in test reports.
Results from other related tests can be shown on test reports.
Reports can be printed and exported to PDF files.
The layout and formatting of a report is specified in a report template.
GDMS comes with numerous predefined report templates.
Report templates can be easily created and customized.
In addition to reports, test data and results can be displayed in a datasheet that can be printed or exported to a PDF.
Can be used to create concrete mix designs that can be specified for concrete tests.
Concrete breaks can be added to tasks to track and schedule concrete tests.
Test results can be linked so that the results from one test can be used in another (eg. Water Content).
Comes with numerous predefined and customizable lists that can be utilized when specifying test information.
Lists include cement types, curing methods, recommended slumps, fracture types, point load correlations, hydrometers, sieve sizes, etc.
Equipment inventory containing detailed information, calibration records, maintenance records, and repair records.
Predefined and customizable sieve specification envelopes.
Units used in tests can be selected and easily converted.
The unit precision can be specified for all test data and results.
Test data can be copied and paste from Excel.
Geotechnical tests can be exported and imported with XML files.
Integration
Multiple test results can summarized, filtered and displayed in project views.
Filter and display test results at sample locations on project maps.
Filter and display test results in 3D views of project.
Display summary lists of tests in a project.
Generate contour maps of test results.
Schedule and track concrete tests in tasks.
Display dry density, liquid limit, plastic limit, plasticity index, water content, permeability, maximum shear stress. peak compressive strength, shrinkage limit, specific gravity, failure strain, Poisson's ratio, Young's modulus, and point load strength test results on boring and well logs.
---
A wide variety of geotechnical tests are supported for soil & aggregates, concrete, asphalt, and rock. These tests include:
Asphalt Tests
Absolute Viscosity (ASTM D2171-94)
Bitumen Content (ASTM D2172-01)
Bulk Specific Gravity and Density (ASTM D2726-04)
Kinematic Viscosity (ASTM D2170-01a)
Marshal Stability (ASTM D6927-15)
Maximum Specific Gravity and Density (ASTM D2041/D2041M-11)
Nuclear Density (ASTM D2950-91)
Concrete Tests
Concrete Compressive Strength (ASTM C39/C39M-05)
Concrete Flexural Strength (ASTM C78-02)
Concrete Tensile Strength (ASTM C496/C496M-11)
Grout Compressive Strength (ASTM C1019-11)
Mortar Compressive Strength (ASTM C109/C109M-07)
Rock Tests
Point Load Strength (ASTM D5731-95)
Triaxial Compressive Strength (ASTM D2664-95s)
Unconfined Compressive Strength (ASTM D7012-04)
Water Content (ASTM D2216-98)
Soil & Aggregate Tests
California Bearing Ratio (ASTM D1883-99)
Classification - Atterberg Limits (ASTM D2487-06)
Compaction (ASTM D698-12 and ASTM D1557-12)
Consolidation (ASTM D2435-96)
Constant Head Permeability (ASTM D2434-68)
Direct Shear (ASTM D3080/D3080M-11)
Falling Head Permeability (ASTM D5084-03)
Los Angeles Abrasion (ASTM C131-03)
Nuclear Density (ASTM D2922-96)
Organic Matter (ASTM D2974-00)
R-Value (ASTM D2844-01)
Shrinkage Bar (C-DOT 228 and TEX-107-E)
Shrinkage Mercury (ASTM D427-98)
Shrinkage Wax (ASTM D4943-02)
Sieve Analysis (ASTM D422-63)
Soil Density (ASTM D2937-02)
Specific Gravity (ASTM D854-02)
Triaxial - Consolidated Drained (ASTM D7181-11)
Triaxial - Consolidated Undrained (ASTM D4767-11)
Triaxial - Unconsolidated Undrained (ASTM D2850-03a)
Unconfined Compressive Strength (ASTM D2166-00)
Water Content (ASTM D2216-98)
---
In version 5 licenses can be either perpetual or subscription. Subscriptions can be manually or automatically renewed. Below is a table showing the prices in USD.
Perpetual License
Single User
$695
Network One User
$1295
Additional License
$495
Annual Maintenance Single
$150
Annual Maintenance Network
$260
Subscription License
Single User Annual
$220
Single User Monthly
$22
Single User Weekly
$8
Network One User Annual
$430
Network One User Monthly
$43
Select the type of license below for pricing.


---

---

Introduction and Product Overview
---
User's Guide and Brochure
---
Products
S

ervices
Resources
Other
© Copyright 2023: GAEA Technologies Ltd.