Well Log Digitization
GAEA Technologies can help you with all of your well and boring logs needs. In addition to our high-quality software for well and boring logs, we can also help you to meet your goals by providing fast
data entry
and
digitization services
.
If you need help getting your data into WinLoG or simply just want the boring logs done for you so that they are ready to go into your report, we can provide fast, cost-effective data entry services. You can email or fax us paper copies of your boring and well records, we will enter them into WinLoG for you and send you a PDF of the logs as well WinLoG exchange files or a project database (depending on your needs).
Because we are experts at using our program, we can provide these services at a speed and cost that is hard to match. In addition, if all you want is the PDF output to go into your report, you don't even need to purchase the GaeaSynergy or WinLoG program. The data entry cost varies according to the amount of data to be entered for a boring or well log, typical prices are between $10 and $50 per boring or well log.
For more information or to obtain an estimate for your data entry needs, please contact us at sales@gaeatech.com.
Do you need to convert older paper, microfiche, or scanned geophysical well log records to digital format? GAEA Technologies can provide you with high quality, low cost, geophysical log digitization services. After your paper logs have been digitized the resulting standard LAS files can be imported into many popular programs including StrataExplorer and WinLoG.
The cost for digitizing a well log is $0.60 per 100 curve feet. Typical wells can be digitized for between $50 and $150.
Our services include the following features:
a wide variety of well logs can be digitized
input can be paper, microfiche, or scanned logs
output to standard LAS format
all or selected curves can be digitized'
curves can be spliced between logs for a well if required
all or selected log header information is captured and stored in the LAS file
&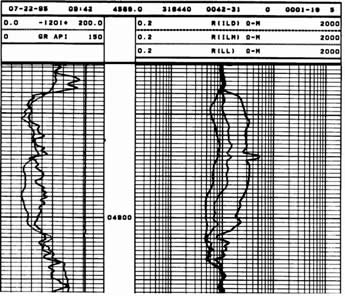 For more information or to obtain an estimate for well log digitization, please contact us at sales@gaeatech.com.

Share this page:
Our Products
Our services
Shopping cart
Account

Login Status
Not logged in
»
Login