EDMS Lab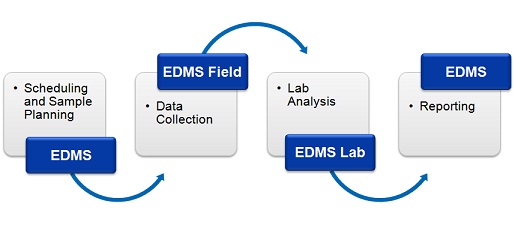 ---
EDMS Lab is a free program provided by GAEA Technologies, that can be used to enter and upload analytical results to a client's Environmental Data Management System (EDMS) network. These analytical results are uploaded to a client's database by either FTP or email as an Electronic Data Interchange (EDI) file.
EDMS, EDMS Lab, and EDMS Field are used to improve and standardize environmental data collection, management, and reporting in an efficient and cost-effective manner. This is accomplished by implementing a documented, auditable process for the collection, storage, and reporting of environmental field data. Throughout this process all stages of the sampling and analysis are tracked and notifications can be sent via email or SMS (text message). Notifications for non-compliance events and sample exceedences can be automatically sent by the system.
Some of the many benefits provided by EDMS Lab are:
The electronic reporting of lab data reduces the effort and possibly of errors of manual data entry.
A Certificate of Analysis (COA) can be included in the EDI file and a copy stored in the main database.
In addition to FTP and email, lab results can be exported to an XML file that can be manually imported by the client.
Sample tracking and client notification for events such as; date received by lab, date analysed, date analysis sent, date sample stored, and date sample disposed.
Automatic conversion of concentration units.
Capture of analysis method.
Capture and reporting of field and lab duplicates and blanks QA.
Capture and reporting of holding time and reference material QA.
Capture and reporting of matrix and trip spikes, lab control samples, and surrogates QA.
---

---

Introduction and Product Overview
---

---
Share this page: - Go to www.addthis.com/dashboard to customize your tools -->
Products
S

ervices
Resources
Other
© Copyright 2023: GAEA Technologies Ltd.