EDMS Field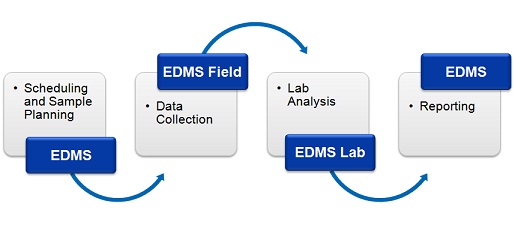 ---
The EDMS Field application is a separate program that can be run on tablets and laptops to collect environmental data and then send this data remotely to the EDMS application. The field data consists of sample and station information and is transmitted as Electronic Data Interchange (EDI) files to EDMS.
EDMS Field is used in conjunction with EDMS to improve and standardize environmental data collection, management, and reporting in an efficient and cost-effective manner. This is accomplished by implementing a documented, auditable process for the collection, storage, and reporting of environmental field data. Throughout this process all stages of the sampling and analysis are tracked and notifications can be sent via email or SMS (text message). Notifications for non-compliance events and sample exceedences can be automatically sent by the system.
Some of the many benefits provided by EDMS Field are:
Capture of environmental data in the field.
Standardize the procedures for the collection of environmental data.
Reduce the time and effort required for data handling and reporting.
Improve the efficiency of reporting to meet internal and external requirements.
Fully integrated with the EDMS module within GaeaSynergy.
---
Click below for prices and ordering.

---

---

Introduction and Product Overview
---

---
Share this page: - Go to www.addthis.com/dashboard to customize your tools -->
Products
S

ervices
Resources
Other
© Copyright 2023: GAEA Technologies Ltd.